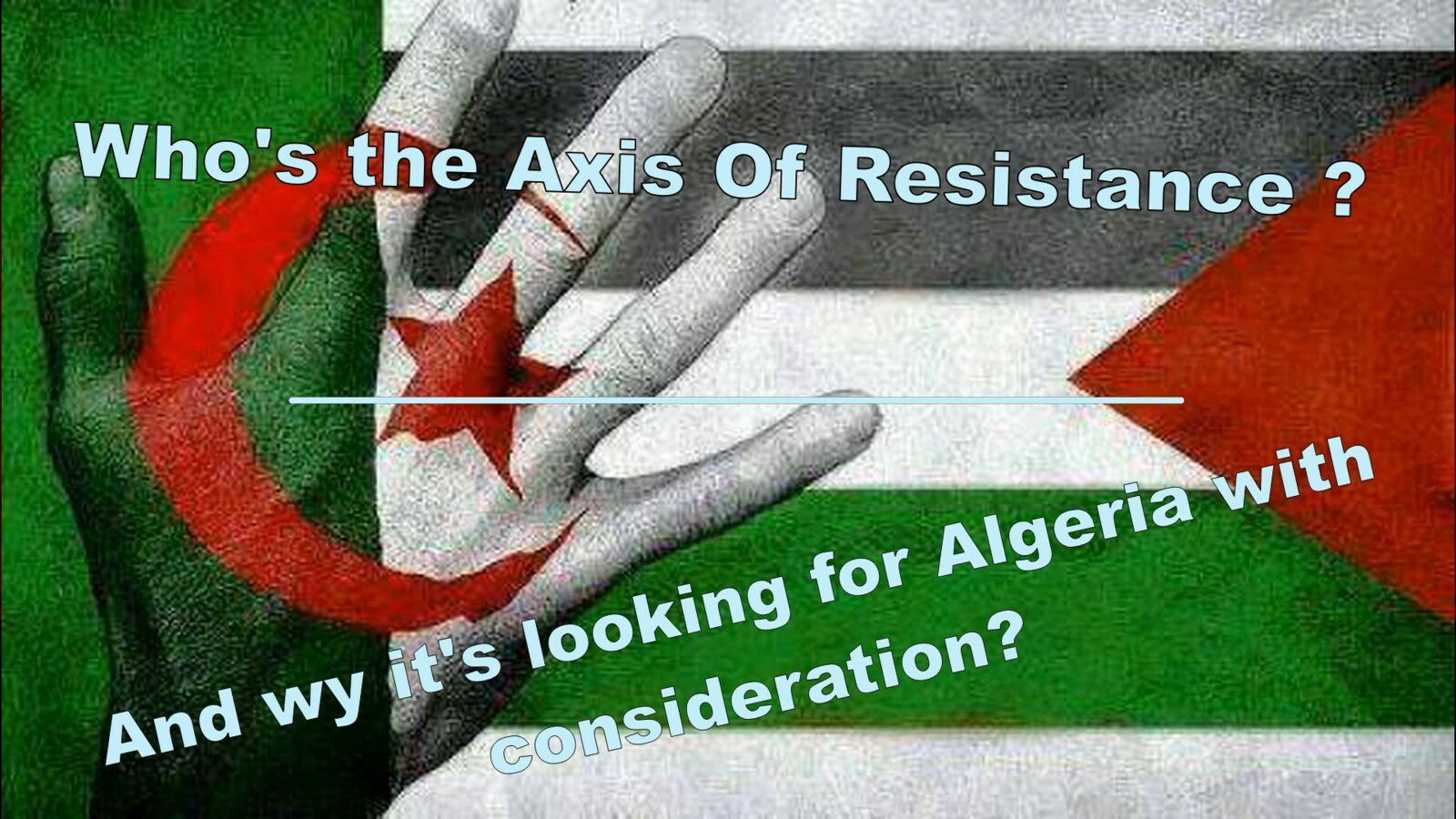 Who is in the Axis of Resistance and why regards Algeria with respect?
After talking a lot about the normalization of some Arab countries and the strengthening of their relations with Tel Aviv, the impression prevailed in Arab public opinion that all Arab governments had rushed and disputed treason and cooperation with the Zionist entity state in occupied Palestine. And a general feeling has arisen among the Arab and Islamic peoples that all their governments have become degenerate, since we are in an age of interests and there is no longer any ideological motivation.
However, this image does not reflect reality. The truth is that we will find some Arab and Islamic countries close to Israel, even those countries which are now on the Israeli side, because their governments act without any popular reference. It is interesting to note that in the list of printing countries there is no government based on democratic foundations, which means that these regimes do not base their policies on the orientations and demands of their people, but on the interests of ruling or economic elites.
Only a few authorities dare officially in front of their people and announce their rallying to the Jewish state, at least under the pretext of confronting Iran, including Bahrain, the Emirates and Morocco. There are also countries that have not really supported Israel but have established relations with it, such as Sudan and Qatar, and there are two countries that signed a peace agreement with Tel Aviv after If they have fought it for many years are Egypt and Jordan.
On the other hand, the countries and peoples who have come together to form what is now called the axis of resistance are also few in number, but they have grown and gained the upper hand, and they are the ones who dominate militarily. and ideologically and who have the power ability to initiate. After the concept of resistance was limited to the liberation movements in Palestine and Lebanon, it has now expanded to include new factions and powerful countries, meaning that after resistance to the Zionist project was relegated in Hamas and Islamic Jihad in Palestine and Hezbollah in Lebanon, it is now the business of Popular Mobilization in Iraq and its supporters. God is in Yemen, not to mention the allied factions that have come to Syria, such as the Afghan Fatimid Brigade or the Iraqi League of the Righteous, combat units that are less present, such as the Cyclone Eagles affiliated with a Lebanese nationalist party and many others who have experienced the baptism of fire in Syria, and they are thirsty to fight Israel outside of their Islamic or pan-Arab jihadist doctrine. Moreover, all these forces gravitate around two powerful states, Syria and Iran, and they mobilize official and heavy capacities for these resistances at all levels.
There are also Arab and Islamic countries, if they are not in the axis of resistance, then they are at least in the axis of opposition, that is to say, they categorically reject normalization and have been firmly rooted in this opposition from the start. The most important of these countries is the loyal state of Algeria, state, government and people. Algeria has not supported the Palestinian cause in all its positions, has not abandoned its relations with Syria and has never adopted a policy hostile to the resistance or to Iran's support for these resistances. Algeria opposes the Zionist incursion into Africa.
Algeria has maintained these positions despite Saudi, Emirati and Qatari pressures and temptations, but it has not forgotten that it was the first victim of these destructive Zionist-ISIS policies in the 90s of the last century.
The Arabs have not forgotten and Israel has not forgotten how the Algerian MiG-25 aircraft repelled and deterred an Israeli airstrike targeting a Palestine Liberation Organization conference during the time of Yasser Arafat in 1988 or its effective participation in the Arab-Israeli wars in the past
There is no doubt that Algeria's positions on issues of centralization of the Arab nation are what put it in the category of permanent targeting of the West, particularly France, with ambitions for its wealth.
Now, away from my own analysis, let's see how Lebanese Hezbollah perceives Algeria and its role, and it is considered the spearhead of the resistance axis. As part of Al-Alam TV's television interview with Hezbollah Secretary General Sayyed Hassan Nasrallah, Mr. Hassan was asked about his assessment of Algeria's positions on the following issues